EXCITING NEWS!

My book

Kentucky Puzzles:

Bluegrass Brainteasers for Ages 6 to 106

is OUT! Please help me celebrate!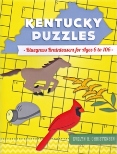 Published by The History Press.

I'll be signing books at the Southern Kentucky
Book Fest in Bowling Green, KY on April 26th.
Please stop by if you're in the area.


I'm delighted you've come to my website! Hope you enjoy the puzzles, activities, and articles as well as the info about my books.

WRITERS--If you write for the education market, I have a list of Educational Publishers for you. If you write for children's magazines, my EZINE might be useful.

My non-writing goal as an author is to help other authors achieve their publishing dreams.

My writing goal is to make learning fun!


Developing materials that help children enjoy learning and that help make the teacher's job easier is one of my greatest delights.

Please check out my books, if you or the children you know would like to:
enjoy puzzling around with math or reading
strengthen critical thinking and logic skills
practice math facts in fun ways
improve mathematical reasoning
have some fun just stretching and exercising your brain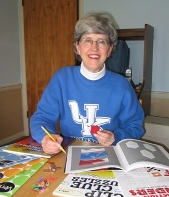 I hope you have fun with my creations! The levels of the books range in difficulty from pre-school to adult.


Evelyn B. Christensen
Author and Puzzle Creator



Inchimals won a
Teachers' Choice Award,
a Creative Child Award,
and a NAPPA Award




Aba-Conundrums won a
Parents' Choice Award
and a Creative Child Award



What Else is New?

Where I'll be when.

Every week I post new puzzles and activities for you.

April 12th
Great time at the Lincoln Book Fest in Stanford, KY!

April
Puzzles in Hopscotch, Pockets, Boys' Quest, Kidsville News, & Guide; craft in Little Lutheran.

March
I have puzzles in Pockets, Fun for Kidz, and Kidsville News; an activity in Little Lutheran.

February
See my puzzles in Hopscotch, AppleSeeds, and Boys' Quest; an activity in Little Lutheran.

January 29th
Please check out my interview on Latrisha Talley's blog.

November 23rd
Enjoyed being on an author panel for "Publishing: The Inside Scoop" program at Jessamine Cty Public Library.

September
My poem is in Little Lutheran; my puzzles are in AppleSeeds, Fun for Kidz, & Kidsville News.

August
See my poem in My Light; my puzzles in Hopscotch, Pockets, Boys' Quest, & Kidsville News.

June 5th
My Coin Clues book is on the list "2013 Summer Reading Suggestions" at Book Wisdom by Diane.

June
My poem, "The Alley," is in Agnes Scott College's alumnae magazine. I have puzzles in Boys' Quest, Kidsville News, and Pockets.

May 24th
My Coin Clues books are recommended on Fortune by Design (family finances) blog.